History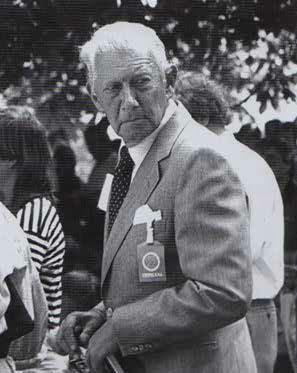 It all started with Philip Alles at Iffezheim
A bloodstock agent is measured by the big race wins chalked up by the horses he recommends to his clients. In this respect the Internationale Vollblutagentur is clearly the number one in Germany: since 1984, when Rüdiger Alles took over the agency from his father Philipp, he has bought more than 50 group race winners. This is unique in German racing history. The names of the big race winners bought by Rüdiger Alles for his clients, either at public auction or privately, reads like a Who's Who of racing. Accento, All Top, Atan, Barrow Creek, Caitano, Chato, Dahkla Oasis, Devil River Peek, Diana Dance, Epalo, Fabulous Eden, Flying Dream, Give me Five, Global Player, Greifvogel, Hibiscus, Huambo, Kaldono, Kornado, Mandelbaum, Manduro, Martillo, Miss Tobacco, Mondun, Network, Noroit, POarco, Pepperstorm, Princess Nana, Ransom O' War, Royal Dragon, Salve Regina, Saugerties, Soldier Hollow, Speedster, Sumitas, Tareno, Tiger Hill, Toylsome, Uriah, Vincenzo, Walzerkönigin - the list goes on and on.
The prominent example of Manduro, bought by Rüdiger Alles on behalf of Georg Baron von Ullmann for 130,000 euros at the BBAG yearling sales in 2003, and four years later winner of the Prince of Wales's Stakes (Group One) at Royal Ascot, shows that this run of success is no coincidence nor due merely to a quick reading of the sales catalogue.
"Obviously I could not expect that Manduro would be officially rated as the best horse in the world four years after I bought him as a yearling," remembers Rüdiger Alles, "but quite apart from his exceptional looks, I had several good reasons for buying this specific yearling." The story begins forty years earlier, when his father Philipp Alles had bought Manduro 's great-grandfather Dschinghis Khan, a rare yearling sale by Gestüt Schlenderhan, on behalf of Karl-Heinz Münchow. Dschinghis Khan became the sire of Königsstuhl, the only winner of the German triple crown. "I was always a huge fan of his," says Alles, "and my sentimental attachment to this horse has accompanied me throughout my career as a bloodstock agent, as Königsstuhl was not only a top-class racehorse but also an influential stallion."
---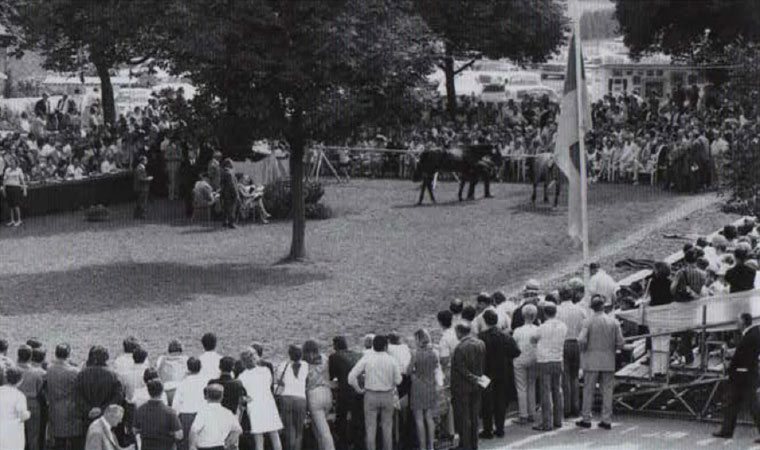 Early yearling sales at Baden-Baden; in the 1960s the sales took place in the racecourse paddock
The next link is provided by Monsun. Alles saw the son of Königsstuhl at Gestüt Isarland and was immediately reminded of his sire. "I fell in love with Monsun when I saw him in his paddock at Isarland and was determined to buy him at a very early stage. His dam's family especially has produced many high-class and tough racehorses. I had to wait until he came up for sale at the BBAG auction and I was able to buy him then for DM 90,000." Alles adds: "Thoroughbreds are like women - when you fall in love with them, you can never let them go!" The continuation of this story is well-known, as Monsun, Germany's most successful stallion of recent years, is also the sire of Manduro.
These are all the results of experience and many years of observation of the racing and breeding scene. The conformation of the horse, his behaviour in the sales ring and of course his pedigree (with a clear dislike of animals known to pass on negative influences), the reputation of the stud where he was bred and reared, these are all factors that are important for Rüdiger Alles when buying a thoroughbred. His agency specialises in the purchase of yearlings, but also has an excellent record buying broodmares. As for example Flamingo Sea, dam of the 2008 Irish Derby winner Frozen Fire, who is just one of 25 mares bought by the IVA who went on to breed group race winners.
---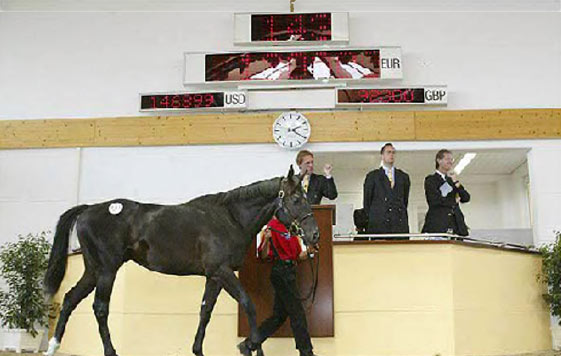 Manduro in the sales ring at the 2003 BBAG sale, where he was knocked down for 130,000 euros to the IVA
In this respect Rüdiger Alles is following in the footsteps of his father Philipp, who founded the agency in Düsseldorf in 1963. Philipp Alles also bought many fillies who went on to become important foundation mares. For example, Crape Band, the dam of Caracol, for Gestüt Fährhof, Tamerella, the dam of German Derby winner Tarim, for Fredy Ostermann, or Room Mate, the dam of Rubens; the purchase of Raasay for Gestüt Wald-Erbach, who bred Rocket, must also be mentioned. Among the colts, the above-mentioned Dschingis Khan together with Hitchcock and Ulan were other significant yearling purchases. Philipp Alles held many posts in German racing; as well as being the manager of the owners' and breeders' association, he was racing correspondent of "Die Welt" and the "Frankfurter Allgemeine", he was the German representative of Laurel Park racecourse and was responsible for selecting German runners to be invited to run in the Washington D.C. International. He was also an influential bloodstock agent and was heavily involved in the founding of the BBAG, Germany's most important sales company.
Rüdiger Alles has inherited his father's passion for racing. "I regard every one of my purchases as my children and follow their careers with the closest interest." Despite all the current problems, Alles is confident of the future of thoroughbred racing: "because one can have great enjoyment through the ownership of a racehorse and in contrast to some other hobbies, one can make a lot of money as well."